BLUETTI AC300 + 1*B300 | Home Battery Backup
BLUETTI AC300 + 1*B300 | Home Battery Backup
Available Rebates
You could apply for the Residential clean energy credit for qualified solar electric property costs. Please verify eligibility and requirements before applying.
BLUETTI
Up to
$1004.4
in rebates.
Buy it for only
Get up to 30% Back!
Claim between January 1, 2023 and December 31, 2032
*Disclaimer: Please be aware that Bluetti does not provide assurances or guarantees concerning potential tax credits that may be associated with our products. Any information we provide is solely for educational purposes only and should not be construed as legal advice. We recommend you rely on the expertise of a tax professional for accurate and personalized tax advice.
---
3,000W AC Pure Sine Wave Inverter (6,000W Surge)
3,072Wh Capacity (Expandable w/ up to 4 × B300 for 12,288Wh)
LiFePO4 Battery with 3,500+ Life Cycles to 80%
240V Split Phase Bonding ( With *2 AC300 & *2 B300 )
24/7 UPS Home Backup
7 Ways to Recharge (AC/Solar/Car/Generator/Lead-acid Battery/Dual AC/AC+Solar)
2400W Max. Solar Input
5400W Max. Fast Dual Charging (Solar + AC)
---
Why Buy From Bluetti
30-Days Money-Back Guarantee
Within 30 days of the purchase, if you are unsatisfied with your products without quality issues, you have the authorization to refund after return the items complete, unused and in the original package. However, you are responsible for the double shipping cost.
4-year Hasslke Free Warranty
Lifetime Customer Support
---
30 Days Price Match Guarantee 
BLUETTI guarantees that we will refund you the difference if you find a lower price from us within 30 days of your purchase.
Price Difference Refund Requirements:
1. Valid purchase history within 30 days.
2. Email us a screenshot of the lower price.
3. Promotion period only.
Rafael Otero

"...Since acquiring the AC300, I have experienced a newfound sense of security during power outages, which are all too frequent in an area with such an unreliable grid. With this extraordinary power station by my side, I can confidently navigate through these challenging moments, ensuring that my household continues to function seamlessly. It can power all of my non-220v appliances effortlessly, but its impact on preserving the perishable items in my fridge for days at a time is truly remarkable. .."

Bob Palmeri

"Something that started out as a backup, quickly turned into powering my living room and kitchen 100% of the time. I now have an AC300 and 4 B300 batteries, paired with four 440 watt solar panels and a ground mounted array that powers the essentials of my house 24 hours a day 7 days a week. I quickly realized that no matter what scenario comes in the future. I will no longer have to worry about waiting endless hours in line for gasoline. As everything now will be powered by the Sun and we can continue on as if nothing is wrong. I cannot stress how happy I am with how the unit has worked out....."

Sunjay Kumar

"...I use the AC300 and 3B300s to power my kitchen refrigerator, TV, 4 window AC units, some lights and a bunch of smaller things around the house such as baby monitors and white noise makers. It works flawlessly! The big sell to my wife is when we lose power to the house and we can barely tell since the TV and lights are still going! With two young kids, it's a life saver! (Heck even the boxes are fun to play in!) 😉 I don't have to worry about random power outages, rolling blackouts or grid maintenance anymore..."

Tony Sitko

"September 20 2021 Bluetti Global I have been using my 2 AC 300 and 6 B300 to power our critacal loads 24/7 for over a year had backup power during Hurricane Ian for 3 days we didn't evan know the power went out untill a neighbor called and asked if our power was our we replied had no idea ! With 4K of PV we have cut our electric Bill in half ! Bluetti support has been pretty good lately faster response times and handle all the details for…"
Discover Your Ideal Products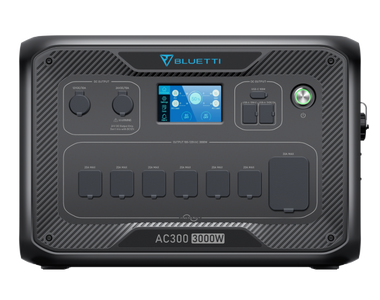 AC300
US$1,399.00
3,072Wh - 12,288Wh
Expandable Capacity
2,400W Max., VOC 12-150VDC, 12A
Solar Input
12/24V from Cigarette Lighter Port
Car Input
5,400W(W/ 2 or more B300) with AC and Solar Input
Max Input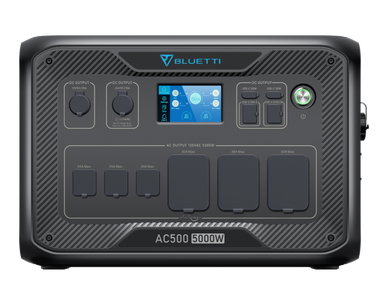 AC500
3,072Wh - 18,432Wh
Expandable Capacity
3,000W Max., VOC 12-150VDC, 15A
Solar Input
12/24V from Cigarette Lighter Port
Car Input
8,000W(W/ 2 or more B300S) with AC and Solar Input
Max Input
OUTPUT
---
6 x 120V/20A Outlets
1 x 120V/30A L14-30
3,000W In Total
---
2 x 5V/3A USB-A
2 x 18W USB-A
---
INPUT
---
2,400W Max., VOC 12-150VDC, 12A
---
12/24V from Cigarette Lighter Port
---
5,400W, with AC and Solar Input Simultaneously
---
GENERAL
---
240V Split Phase Bonding:
---
Expandable W/Up to 4 x B300
---
Simultaneous Recharge & Discharge:
---
20.5 x 12.5 x 14.1in ( 52 x 32 x 35.80cm)
---
UL Standard, PSE, FCC, CE, UN38.3, msds, SAA and ROHS
---
48 Months (Enter to learn more about our warranty policy)
---
US$4,598.00
US$5,298.00
- US$700.00